Home › Photo Galleries › Peak Garden and Mount Austin Playground
Peak Garden
and Mount Austin Playground
These beautiful outside spaces are a short walk away from the Peak Tram terminus and well worth a visit, particularly if you have children with you.
Victoria Peak Garden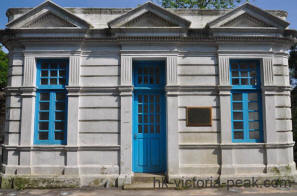 Originally the gardens and grounds of the Governor of Hong Kong's Summer Residence, "Mountain Lodge" these formal European grounds are now open to the public and are managed by the government.
In the garden you will find winding paths and open green lawns interspersed with park benches, pagodas and classic Victorian garden fittings such as wrought iron railings.
Public restrooms are available as is a light refreshment stand.
Offering rare green lawns with mature shrubs and trees the area no longer has the Governors' residence, which was demolished after the wall, but the old Gate House has been preserved and is today known as Gate Lodge.
But the highlight of any visit to the Peak Garden is the outstanding views available around Hong Kong. Unlike the viewing platforms at the Peak Tower or the Peak Galleria, which merely look north, the views from the Peak Garden include the West and South of Hong Kong Island as well.
Mount Austin Playground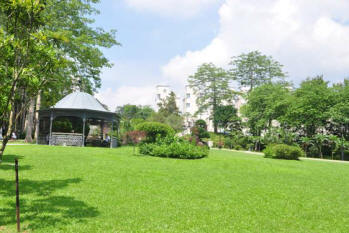 One of the rare open green spaces in Hong Kong the Mount Austin Playground is just 10 minutes walk from the Peak Tram and offers a wonderful environment for children to play and for a family picnic. Together with the Peak Garden it is one of the few parks in Hong Kong island where there is a green lawn suitable for walking on.
A great place to take materials you purchased from the supermarket to have an outdoor picnic!
The children's play area includes climbing frame and slides on a safety mat, next to two free drinking fountains.
There are three sets of Play Equipment for Toddlers of Age 2-5 (including Multi- seat Swing with one cradle seat - 1 set, Spring riders - 2 nos, Modular Play system - 1 set ).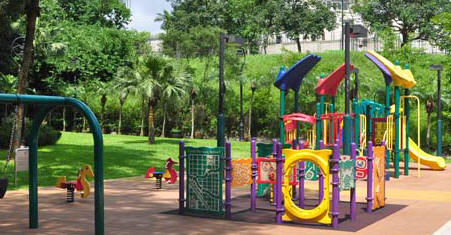 There is also one set of Play Equipment for Children of Age 5-12 ( including Multi play system - 1 set ).
FOOD
AND DINING
While often visited for the view the visitor should not forget that The Peak encompasses a wide range of dining options, from the casual to the sophisticated. Within The Peak area are examples of many of Hong Kong's most authentic and distinctive styles, as well as international choices to fit all palates and budgets.